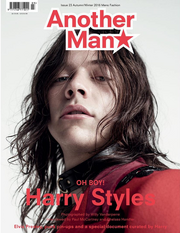 AnOther Man Magazine is an upscale men's fashion and culture publication, first launched in 2001.
Harry Styles appeared on three AnOther Man covers for the publication's 23rd issue. He participated in a high fashion spread and conducted interviews with Beatles singer Paul McCartney and late show host Chelsea Handler.
History
AnOther Magazine launched in 2001, presenting a mixture of high fashion photography and socially relevant articles. Published bi-annually, previous cover stars have included Rihanna, Nicole Kidman, Natalie Portman, Michelle Williams and Tilda Swinton.
AnOther Man was launched in 2005 and focuses primarily on male fashion. The official website describes the publication, stating: "Essays and interviews with figures like JG Ballard, Richard Prince and Tom Waits alongside pioneering fashion made it the first magazine for men that combined intelligence, luxury and a sense of adventure."[1]
AnOthermag.com, AnOther Magazine and AnOther Man are part of independent publishing company Dazed Media.
Issue 23
Issue 23 featured an exclusive photoshoot and several interviews with Harry Styles as he prepared for his first film shoot in May 2016. The issue also featured excerpts about personal items Harry holds dear and a mixtape featuring his top ten songs of all time. Gemma Styles, Harry's sister, contributed a feature article about their growing up together before Harry became famous. Harry dedicated the issue to his friend and photographer Matt Irwin, who passed away on May 5, 2016.
Harry attended the launch party for Issue 23 on 6 October 2016 at Albert's in London, along with his sister Gemma, his manager Jeff Azoff, and One Direction stylist Lou Teasdale.
Fashionista.com named Issue 23 as one of the 29 best fashion magazine covers of 2016.
Gallery
External Links
References
Community content is available under
CC-BY-SA
unless otherwise noted.