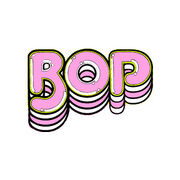 BOP magazine is a monthly American teen magazine. It is published by Laufer Media, who also publish Tiger Beat.
Background
The magazine was founded in 1982 by Julie Jenkins, Teena Naumann, Kerry Laufer and Scott Laufer. It was then sold to Primedia in 1998 but in 2003, Primedia sold it back to Scott Laufer (along with Tiger Beat).
There was a spin-off magazine named "Big Bopper" (later shortened to "BB") which began publication in the fall of 1986 and was published until 2000.
Issues featuring One Direction