Family Guy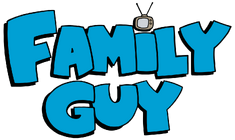 One Direction
Role
Self, voice role, animated appearance
Episode
"Run, Chris, Run"
Information
Format
Animated sitcom
Created by
Seth MacFarlane
Country
United States
Voices of
Seth MacFarlane
Alex Borstein
Seth Green
Lacey Chabert
Mila Kunis
Mike Henry
Seasons
14
Episodes
269
Production
Producers
Shannon Smith
Julius Sharpe
Kara Vallow
Running time
20–23 minutes
45 minutes (select episodes)
Broadcast
Channel
Fox
Run
January 31, 1999–present
Family Guy is an American animated comedy series. One Direction appeared on the show as cartoon versions of themselves in 2016. The episode airs on May 15th.
Synopsis
Described as "sick, twisted and politically incorrect", Family Guy focuses on the Griffin family. Consisting of Peter, the father/husband, Lois, the wife/mother, Meg, the eldest child, Chris, the middle child, Stewie, a toddler and Brian, the family dog, the Griffins get into all sorts of sensational situations, which often provide social commentary. The show has caused controversy for being offensive and at times grotesque or inappropriate.
One Direction Appearance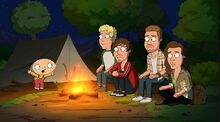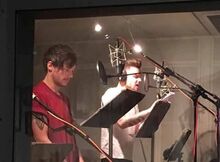 One Direction appeared on the show in an interlude. Throughout each Family Guy episode, most characters think back to a point in time where they were doing something similar to what the current plot requires of them. They are often doing something with a famous celebrity at the time. In this instance, Stewie remembers the time he went camping with One Direction, and told them "scary" stories by the campfire. The stories are "scary" only to pampered celebrities - a hotel supplied him with still water and his stylist clothed him in non-skinny jeans. The band gasps in horror at the thought of no sparkling water and no fashionable jeans.
The episode features voice acting from Louis Tomlinson and Liam Payne themselves. The pair recorded their parts in 2015, most likely when One Direction were touring the United States for the On The Road Again Tour.
Community content is available under
CC-BY-SA
unless otherwise noted.