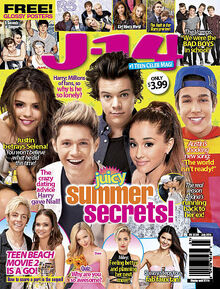 J-14 is a monthly teenage magazine marketed at preteen and teenage girls around age 11-19. It is one of the first teen celebrity magazines. The magazine was among the top children magazines in 2012 list of Forbes.[1]
Background
J-14 was founded in 1998[2] and it's first issue was released in January 1999. It was published by Bauer Publishing, the United States division of the Germanfirm Bauer Verlagsgruppe. The contents of this magazine featured teen gossips, information on different celebrities, quizzes, holding of contests, and many posters. In recent years, One Direction is almost always on the front cover. The headquarters of J-14 is in Englewood Cliffs, New Jersey[3]. In April 2015, the Spanish language online edition of J-14 was launched.[4]
Circulation
An annual survey in 2007 by Experian Simmons Research of Fort Lauderdale, Florida found that J-14 tied Nickelodeon Magazine among American girls 8–14 for familiarity, with nearly one in three girls in that age group surveyed saying they had read or looked at the magazine. Circulation was 217,183 copies in 2006.[5]
Issues featuring One Direction
External Links
References