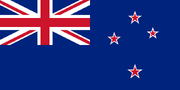 New Zealand
is one of the countries visited for the Australasian leg of
One Direction
's
Take Me Home Tour
and 
Up All Night Tour
.
New Zealand was visited on the following tours:
Up All Night Tour
Edit
Not part of the original tour schedule, New Zealand was eventually added, along with Australia and North America.
April 2012
Date
City
Venue
Sat
21
Auckland
Trusts Stadium
Sun
22
Wellington
St. James Theatre
Take Me Home Tour
Edit
The following concerts were part of the tour which took place in New Zealand:
October 2013
Date
City
Venue
Thu
10
Christchurch
CBS Canterbury Arena
Sat
12
Auckland
Vector Arena
Sun
13
Auckland
Vector Arena
Wellington
Edit
On April 22, 2012, Harry, Louis, Liam and Niall visited a local bar in Wellington on the last night of their Take Me Home Tour. As the night progressed, Harry and Louis became particularly drunk and danced around the club together. Fans began recording them and allegedly caught footage of Harry and Louis either closely embracing or kissing. One person recording can be heard exclaiming "Oh my god, they're kissing!" but the footage is too blurred to decipher. The footage has become famous amongst One Direction fans as they attempted to find clearer video of the night. Other low quality footage has been dubbed "Wellington quality" and any instance of filmed Harry and Louis interaction being blurry or obscured is referred to as "the Wellington curse".
There appeared to be an elaborate cover-up of the footage, as it was deleted from YouTube, the fan who took it "disappeared" from her regular online activities and both Louis's grandfather and sister tried to deny it was Harry or Louis at all, even though pictures clearly show them, as well as Niall and Liam.
The Wellington pub visit was referenced by Sir Ian McKellen in his sit-down interview with One Direction on the Graham Norton show in 2014. The band was originally scheduled to meet McKellen and the rest of the Lord of the Rings cast, but decided to go to the bar instead.
Community content is available under
CC-BY-SA
unless otherwise noted.