Red or Black?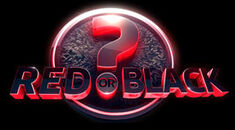 One Direction
Role
Self, musical guest
Episode
September 10, 2011
Information
Format
Game show
Created by
Simon Cowell
Host
Ant & Dec
Country
United Kingdom
Seasons
2
Episodes
14
Production
Locations
Wembley Arena (2011)
The Fountain Studios (2011)
Elstree Studios (2012)
Running time
30-75 minutes (2011)
45 minutes (2012)
Broadcast
Channel
ITV, STV, UTV
Run
September 3, 2011 – September 29, 2012
Red or Black? is a British television game show. Developed by Simon Cowell, Red or Black? is the most expensive game show in television history, with a £15 million budget.
They performed in the 7th episode of the first series. That episode got the third highest viewer ratings in the whole first series reaching around 5.5 millions viewers.
Background
In each round, contestants must choose red or black, with those that choose the incorrect color were eliminated. During the first series, four finalists guessed the color correctly in the final round and became millionaires. Over 100,000 members of the public applied to be on the show, with the numbers being reduced down to a different final eight contestants per live show each night for seven nights. Whilst most rounds varied, there were two standard rounds in each live final; "Duel" where the final two contestants went head to head, and the final round where the winner chose a color on a giant wheel similar to that used in roulette. Celebrities including Jedward, David Hasselhoff and One Direction were involved in the rounds of the show where contestants must choose either red or black in order to pass to the next round, while the show has filmed on locations such as Battersea Power Station and the set of Coronation Street.
Red or Black? was commissioned for a second series, which featured the format having been revamped significantly. While the first series featured six pre-recorded rounds in several different locations and four live rounds, the second series featured six pre-recorded rounds that take place in either the Red or Black? Arena or in the studio. Celebrities such as Carol Vorderman, Jonathan Ross and Little Mix were involved in the rounds for this series.
One Direction's Performance
Community content is available under
CC-BY-SA
unless otherwise noted.