The Fresh Prince of Bel Air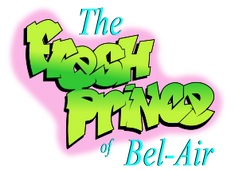 Information
Format
480i (SDTV)
Created by
Andy Borowitz


Susan Borowitz

Theme song
"Yo Home To Bel-Air", performed by The Fresh Prince
Country
United States
Seasons
6
Episodes
148
Production
Producers
Werner Walian, Lisa Rosenthal, Joel Madison, Leilani Downer, Joanne Curley-Kerner, Joel Markowitz
Locations
Hollywood Center Studios

Hollywood, California (1990–1991)
Sunset Gower Studios Hollywood, California (1991–1993)
NBC Studios Burbank, California (1993–1996)

Running time
23 minutes
Broadcast
Channel
NBC
Run
September 10, 1990 – May 20, 1996
The Fresh Prince of Bel-Air
 is an American television sitcom that originally aired on NBC from September 10, 1990, to May 20, 1996. The show stars Will Smith as a fictionalized version of himself, a street-smart teenager from West Philadelphia who is sent to move in with his wealthy aunt and uncle in their Bel Air mansion after getting into a fight on a local basketball court. In the series, his lifestyle often clashes with the lifestyle of his relatives in Bel Air. The series ran for six seasons and aired 148 episodes.
The theme song and opening sequence set the premise of the show. Will Smith is a street-smart teenager, born and raised in West Philadelphia. While playing basketball, Will Smith misses a shot, and the ball hits a group of people, causing a confrontation that frightens the mother of Will, who sends him to live with his aunt and uncle in the "town" of Bel Air, Los Angeles. He flew from Philadelphia to Los Angeles on a one-way ticket in first class. He then whistles for a taxi that is described in the opening sequence as having a vanity plate with the word "FRESH" on it.
Will's working class background ends up clashing in various humorous ways with the upper class, "bourgeois" world of the Banks family – Will's uncle Phil and aunt Vivian and their children, Will's cousins Hilary, Carlton, and Ashley.
Now this is a story all about how
My life got flipped-turned upside down
And I'd like to take a minute
Just sit right there
I'll tell you how I became the prince of a town called Bel-Air

In west Philadelphia born and raised
On the playground was where I spent most of my days
Chillin' out maxin' relaxin' all cool
And all shooting some b-ball outside of the school
When a couple of guys who were up to no good
Started making trouble in my neighborhood
I got in one little fight and my mom got scared
She said, "You're movin' with your auntie and uncle in Bel-Air."

I begged and pleaded with her day after day
But she packed my suitcase and sent me on my way
She gave me a kiss and then she gave me my ticket.
I put my Walkman on and said, "I might as well kick it."

First class, yo, this is bad
Drinking orange juice out of a champagne glass.
Is this what the people of Bel-Air living like?
Hmm, this might be alright.

But wait I hear they're prissy, bourgeois, all that
Is this the type of place that they just send this cool cat?
I don't think so
I'll see when I get there
I hope they're prepared for the prince of Bel-Air

Well, the plane landed and when I came out
There was a dude who looked like a cop standing there with my name out
I ain't trying to get arrested yet
I just got here
I sprang with the quickness like lightning, disappeared

I whistled for a cab and when it came near
The license plate said "Fresh" and it had dice in the mirror
If anything I could say that this cab was rare
But I thought, "Nah, forget it."
– "Yo, home to Bel-Air."

I pulled up to the house about 7 or 8
And I yelled to the cabbie, "Yo home smell ya later."
I looked at my kingdom
I was finally there
To sit on my throne as the Prince of Bel-Air
Live Performance
Edit
Community content is available under
CC-BY-SA
unless otherwise noted.