Today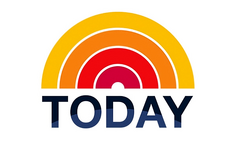 Information
Format
News, talk
Country
United States
Production
Running time
240 minutes
Broadcast
Channel
NBC
Run
January 14, 1952 – present
Today
(also known as
The Today Show
) is a daily American morning television show on NBC.
One Direction
has appeared and performed four times on
Today
.
2011
Up All Night
One Direction performed on Today for the first time on March 12, 2011 to promote the release of Up All Night in the United States. They sang "What Makes You Beautiful", "Gotta Be You", "One Thing", and "More Than This".
2012
Take Me Home
One Direction's second appearance on Today was on November 13, 2012 to promote the release of their second album, Take Me Home. They performed six songs, but only three ("What Makes You Beautiful", "Live While We're Young", and "Little Things") were originally aired. The other three ("One Thing", "Moments", and "Kiss You") were aired the next day. More than 15,000 fans crowded the Rockefeller Plaza, breaking the attendance record they set in March.
2013
This Is Us
One Direction's third appearance on the Today show was on August 23, 2013 to promote the release of "Best Song Ever" and their film This Is Us. They performed Best Song Ever, "Kiss You", "Little Things" and "What Makes You Beautiful". More than 18,000 fans showed up, once again setting a new attendance record.
2014
Four
One Direction's fourth appearance on The Today Show was November 17, 2014 in Orlando, Florida, to promote their fourth album Four. It was one of the band's first official public appearances without Zayn Malik, even though he had not officially left the band yet. He was absent due to alleged exhaustion, but Today Show host Matt Lauer angered fans and annoyed the band by speculating that drug use had something to do with his absence.
The band held an outdoor concert and performed "Steal My Girl", "Girl Almighty", "Night Changes", "Story of My Life", 'What Makes You Beautiful" and "Best Song Ever".
2017
On May 9 2017, Harry Styles performed a solo set to kick off the Today Show's Summer Concert series. He performed Sign Of The Times, Ever Since New York and Carolina, all from his self-titled album, and One Direction's Stockholm Syndrome, from the 2014 album Four.
Niall Horan will perform as part of the Summer Concert series on May 29.
Gallery