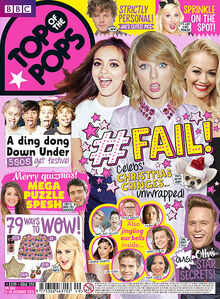 Top of the Pops magazine is a British monthly publication published by Immediate Media Company. It features chart information, star gossip, fashion and beauty advice, quizzes, song lyrics and posters. It was a supplementary magazine for the BBC television programme Top of the Pops, which stopped producing weekly shows in 2006. The magazine and TV show have since diverged and now have distinctive identities.This magazine has been running since February 1995, and filled the void in the BBC magazine portfolio where Number One magazine used to be. It began much in the mould of Q magazine, then changed its editorial policy to directly compete with popular teen celebrity magazines such as Smash Hits and Big, with free sticker giveaways replacing Brett Anderson covers.
The BBC announced that the magazine would continue in publication despite the end of the television series, and is still running.
Features
Gossip 2 Go—The month's hottest celebrity gossip.
Oops, Shameful Celeb Slip Ups—The magazine picks the funniest celebrity pictures and associates them with a witty quote.
Your Oops—Readers send in the most shameful stories.
The Surgery—Originally called Star Therapy, this was hosted by a random celebrity who tries to sort out readers' problems. Along with the name change, the section is now hosted by BBC Radio 1's Aled and BBC Slink's Dr Mel.
Your Letters—Hosted by Dick and Dom who take a look at some of our readers' gossip about stars, clothes or just real life situations.
Don't Miss—The magazine picks some of the hottest films, TV programmes and games, plus the latest single reviews by a random celebrity.
Top Of The Shops—The magazine picks out some of the hottest bargains, where you can buy them, and their price.
Real Life—The magazine draws our attention to situations that happen in the real world.
The Wonderful World Of The Wanted-A page written by The Wanted.
One Direction page with your questions and their answers, 1D fan of the month.